Cluedo & Clue Entertainment
---
Entertainment
Clue VCR Mystery Game:

The first time that the characters from Clue(do) were brought to life - this game comprised of a video cassette and five sets of cards. Players watch the ten Master Detective characters running around Boddy Mansion wielding weapons and hamming it up. The idea is to identify who killed whom in which room and with what by reading clues on the cards and by remembering pieces of evidence from the video.
Clue II: Murder In Disguise VCR Game:

Sequel to the Clue VCR Mystery Game - this game was very similar (still with the 10 characters from Master Detective) but this time the characters get to leave their usual setting and visit famous cities over the world.
Cluedo Party Tudor Mansion Edition: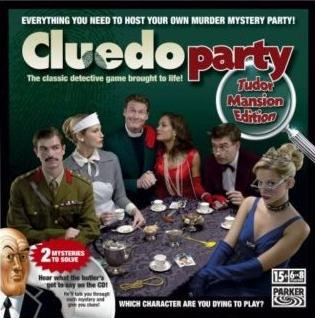 Have you always wanted to be Miss Scarlet or Professor Plum?... Well now's your chance. Become your favourite character with this Cluedo game for adults. Cluedo Party is the perfect accompaniment to host your very own murder mystery dinner party, containing everything you need including, guest invites, character profiles, dressing up bibs and a CD containing another murder mystery for 8 guests. A Cluedo game for adults. The first chance to become your favourite Cluedo character and solve the murder mystery with the added value of a second murder mystery on the CD. [Text: Manufacturer]
This product is listed on Amazon.co.uk here: Cluedo Party Tudor Mansion Edition but no longer seems to be available.
British Television Series:

This was an absolutely brilliant TV gameshow in which two teams of celebrities pitted wits to uncover the murder at Arlington Grange every week. It ran for four series and one christmas special and starred a host of British celebrities as the suspects such as Joanna Lumley (Absolutely Fabulous, The New Avengers et al.), Joan Sims ("Carry On" films, Cluedo CDRom), Stephanie Beacham (The Colby's), June Whitfield (Absolutely Fabulous, Terry & June), Ian Lavender (Dad's Army), Richard Wilson (One Foot In The Grave), Mollie Sugden (Are You Being Served?), Tom Baker (Dr. Who), Pam Ferris (The Darling Buds Of May), Christopher Biggins (Renta Ghost) and many, many more. This format was subsequently sold to other countries including Australia, France, Sweden and Germany.

For more details, please see the review of the UK Cluedo series, the UK episode guide and the media page.
Australian Television Series:

Based on the British TV Series the Australian version has a couple of differences - there is a detective wandering round after the murder, trying to work out whodunnit, the studio audience, rather than two celebrity teams, interview the suspects and vote on whodunnit (a memebr of the audience could win a holiday if they got it right) and the number of filmed sequences were different.
For more information, please see the media page.

Below is a list of the 21 episodes that were made (provided by Sephi and added to by Damian - thanks both !) :


First Series:

FETE WORSE THAN DEATH
A NEST OF VIPERS
PALMS OF AN ARCHITECT
THE MAN WHO KNEW TOO MUCH
GOOD WILL TO ALL MEN (Christmas Special)
MADAME ROSAMONDA
GREATER LOVE HATH NO MAN
THE FIRST LADY
THE AXEMAN COMETH
THE KISS OFF
A BODY TO DIE FOR
THE SPY WHO CAME IN WITH A COLD
STILL LIFE

Second Series:

POISON PEN
A BRUSH WITH DEATH
WITH A SMILE ON HIS DIAL
WHERE THERE'S A WILL
DEATH AND TAXES
MURDER MOST FOUL
HUSH HUSH SWEET SCARLETT
FALSE PROFITS
French Television Series:

For information about the French TV series, take a look at the French Cluedo TV Series Episode Guide. There were about 5 or 6 episodes released in France, and the style was very similar to the British and Australian series (see above).
As a little teaser, here's the theme music (2738K Wav) from the french series! (Thanks Jérôme)
Swedish Television Series: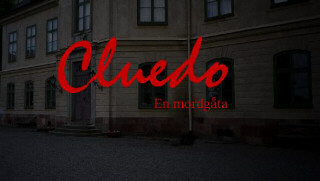 The British quiz show format was sold again, this time to Sweden - entitled "Cluedo - en mordgåta". For information see the Swedish Cluedo TV Series Episode Guide.
Clue - The Movie:

A 1985 comedy from Paramount Pictures, starring Eileen Brennan, Martin Mull, Tim Curry, and others. This is still available on VHS in the US, but discontinued in the UK (See here). The movie has 3 endings. In theatrical releases, the endings were shown randomly. Video and television versions have all 3 endings. Video available at amazon.com (US Only).

This film is AMAZING. I have watched it about a million times; but every time you spot a new joke, a new "look" or a new pun. I thoroughly recommend that you see it/buy it. It stars Tim Curry as the butler Wadsworth, Eileen Brennan as Mrs. Peacock, Lesley Ann Warren as Miss Scarlett, Madeline Kahn as Mrs. White, Martin Mull as Col. Mustard, Michael McKean as Mr. Green and Christopher Lloyd as Prof. Plum.
This film is so great that it deserves a section devoted to it in Cluedofan.com

Clue NTSC (North America) VHS at Amazon.com
Clue Region 1 (North America) DVD at Amazon.com
Clue Region 2 (Europe, Middle East & Japan) DVD at Amazon.co.uk
Looking for the UK PAL VHS version? Click here for advice.
Clue The Musical:

This is an off-Broadway musical featuring 216 possible endings. Mrs. White is played by a man in this. Merchandise available for the show include the CD / cassette soundtrack (no longer available), tee-shirts, sweat shirts, and mugs. (Text by : Timothy)
More info available at http://www.cluethemusical.com
MIDI Samples here
Cluedo - The Play: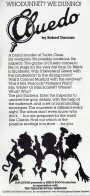 Peter Wheeler sent the flyer to the left (click for more detail) and the following information:
A long-standing friend of mine Robert Duncan, commercial artist, cartoonist and part-time playwright, penned Cluedo for the amateur group: The Thame Players in Oxfordshire. This was presented with great success, in Thame, the Kenton Theatre Henley, and the Questors Theatre in Ealing in 1985. (There were considerable negotiations with Waddingtons before this happened!)

A number of promoters came to see the show and the rights were eventually taken up by Ian Liston of Hiss & Boo productions who started the first U.K. tour at Windsor on 29th July 1986.
Michael Akers provides the following from a flyer for the 1986 tour:

Ian Liston Presents:
Cluedo by Robert Duncan - by arrangement with Waddingtons Games.

CHRISTOPHER BIGGINS
AVRIL ANGERS
TREVOR BANNISTER [Mike's note: of Are You Being Served Fame]

With Susan Beagley, Rosemarie Dunham, George Little, Simon Merrick, Howard Southern, Peter Spraggon.

Directed by Hugh Goldie
Designed by Lee Dean

WHODUNNIT? WE DUNNO! You, the Audience must decide!

A different ending at every performance. Even the Actors don't know whodunnit!

Marty Fairgrieve provides scans of the 1986 Glasgow programme:
Lee Walker also provides the following from the 1989 Milford Haven programme:
Cluedo by Robert Duncan. By arrangement with Waddingtons Games Ltd and Ian Liston.

Thurs, 13th September - Sat, 6th October 89. Torch Theatre, Milford Haven, Pembrokeshire, Wales

Dr Black Howerd Southern
Mrs White Lynn Hunter
Prof Plum Nick Gough
Col Mustard Graham Hoadly
Mrs Peacock Amanda Wright
Miss Scarlett Mandy Humphrey
Rev. Green Micheal Lomax
Inspector Grey Clive Flint
Sergeant Rose Barry Killerby

Director Kit Thacker
Designer Nigel Hook
Lighting Designer Paul Colley
The Voice Edward Brayshaw
Music composed and played by Graham Pike

The play is set in Dr Black's country residence Tudor Close somewhere in the south of England. It is an autumn evening in 1935.

One interval of 15 mins.

DON'T FORGET TO VOTE! your decision effects the outcome of this performance. The actors will not know the result of your vote - and therefore which ending to perform - until half way through he second act. Go on-surprise them.

WHO DUNNIT? WE DUNNO! YOU, THE AUDIENCE MUST DECIDE!

[As I remember, we were handed a note similar to in the game with the suspects and weapons on it (no rooms) at the interval, you filled them in and they were collected! At the end of the play one of the notes (that "won") was picked and given a game of cluedo.]
Even more information comes from Peter Wheeler:
A BRIEF HISTORY OF CLUEDO (the play)

The stage version of CLUEDO was the brainchild of Robert Duncan (better known as a commercial artist, very successful with the 'Not Particularly Orange' range of greetings cards).

Following lengthy negotiations with Waddingtons it was written in 1984 for the Thame Players amateur dramatic group in Thame Oxfordshire. The uniqueness of this venture ensured maximum publicity and was directed by Peter Wheeler (whose main directorial experience had been pantomimes) to house-filling effect at the Players Theatre Thame in July 1985. So, for the first time ever, the celebrated Waddingtons mystery board game came to life. At last we learnt the motives of the six suspects, and we found out why the Inspector was so bewildered. The permutations of room, weapon and murderer gave a mathematical equation of 216 possible conclusions - so the cast had to be ready for every eventuality!

The word spread from Oxfordshire to London and various production companies sent a representative to see this ground-breaking show. The rights were finally acquired by Ian Liston of Hiss & Boo Productions to whom any enquiries should be made about the availability of the script. (01444 881707). The media soon picked up on this event and the (amateur) cast were overwhelmed by the attention of the local press, Central TV, Radio Oxford, Radio London and even Steve Wright on Radio 1! Further presentations followed at the Kenton Theatre Henley and the Questors Theatre Ealing.

We move now to 1986 when the first professional tour commenced. CLUEDO opened in July at the Theatre Royal Windsor, where it broke box office records in its second week, and its own record in the third! Subsequent venues in this tour included Bath, Birmingham, Norwich and Brighton. The cast showcased Christopher Biggins as Reverend Green, Sue Beagley (ex Hi-de-Hi) as Miss Scarlett, Trevor Bannister as the Inspector, and Avril Angers as Mrs White. A second tour was mounted in 1990, and memorably author Robert Duncan was unable to get a seat at the Queens Theatre Hornchurch as it was sold out!

A LITTLE TRIVIA!

Robert and his wife Carol saw CLUEDO in Brighton, and during the interval were introduced to David Land (original guru behind Tim Rice/Andrew Lloyd Webber) and Vera Lynn who all professed to having enjoyed this great comedy/drama.
Speaking of Tim Rice, it was rumoured that he visited CLUEDO 4 times.
An Australian tour was planned but unfortunately never materialised.
Me? [Peter Wheeler] I've gone back to pantomimes (and the day job!)
IMAGES (Provided by Peter Wheeler)
1st Production Press Release
1st Production Press Release
1st Production Flyer
Thame
Henley Poster
Ealing
Central TV
Central TV
Media Picture
1st Programme
1st Programme
Envelopes
Script Cover
Script Page 1
Script Page 2
1st Professional Production
Programme
1st Professional Production
Programme
The first student production of "Cluedo? - The Play" is going to be performed soon in Cambridge.
The Heywood Society - Cambridge University's only combined film and drama society has been given the rights to perform Cluedo? on four nights: 18th, 19th, 21st and 22nd February.

This is the first performance of Cluedo for about 10 years.

The cast will be:

Dr Black: Henry Shepherd
Mrs White: Sarah Conneally
Prof Plum: Keir Shiels
Col Mustard: James Evans
Mrs Peacock: Cordelia Jenkins
Miss Scarlett: Rebecca Hitchins
Rev. Green: Rhys Houghton-Jones
Inspector Grey: Simon Radford
Sergeant Rose: Tim Decamp

It will take place in the Theatre at Peterhouse (Cambridge's oldest college), Trumpington Street, Cambridge CB2 1RD
Tickets will be £4 - £6
© Paul Howls, 1998-2010
Cluedo & Waddingtons are © Hasbro International Inc. Distributed in the UK. by Waddingtons Games, Castle Gate, Oulton, Leeds LS26 8HG