Cluedo & Clue Collectors Boardgames
Clue: The Collector's Edition:

This costs $555 (15 payments of $37) and is available through The Franklin Mint. The Board is wood, rooms are "sunken in" with detailed rooms, including 24 K gold furniture. All pieces are also 24K gold. This is more of a collector's item than a game that you'd actually want to play.
Text by : Timothy
Clue Limited Gift Edition: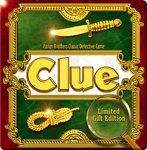 This set comes in a tin with gold-tone pieces, including a poison chalice. This set is much more affordable than The Collector's Edition at about $30. Also included is a quad-fold board, plastic-bound cards, detective's notebooks, and a history of Clue. This is only available in the US and is made by Winning Moves. May be available for over-seas shipment through Amazon.com.
Text by : Timothy
Cluedo: Leeds Centenary Edition: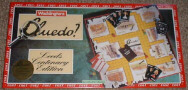 Produced as a limited edition of 2000 copies, in 1993; this adaptation of Waddingtons' classic board game was manufactured as a tribute to the City of Leeds in which Waddingtons had been based for many years. Leeds celebrated it's centenary in 1993, and the board has images of famous landmarks in the city, within which the game is played.
Text by : "Meltbridge" Ebay User
Thanks to : David Moss
Cluedo / Clue 50th Anniversary Edition:
Sold to celebrate 50 years of Cluedo/Clue, this edition is very similar to the Limited Gift Edition but the playing pieces are made of metal (rather than wood), the seventh weapon is a bottle of poison rather than a chalice and the cards has been spruced up.
It comes in a tin case in the US (only cardboard in the UK!) along with a gold-tone dice cup and "... other anniversary elements" (such as "invitations" that double as notepad boards).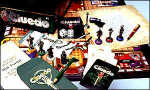 Note: When it was announced that the 50th Anniversary Edition is to be released in the UK in 1999 this lead to a bit as confusion as many sources say that Cluedo was released in the UK in 1946 - making it 53 years old not 50! I got the following answer from the International Cluedo Champion Mr. J. Kollar:
'Cluedo was invented in 1943 by Anthony Pratt then called "Murder". His wife designed the board. Friends played the game before it was shown to Waddingtons and went into commercial production under its new name "Cluedo" in 1949. November, to be more precise. I know for sure because I have met Mr. Pratt's daughter and seen the original patents and contract between Mr. Pratt and Waddingtons and the all important letter from Waddingtons dated November 1949 saying "...we have decided to put your game into production". So Cluedo was "born in 1943 (when it was invented), in 1946 (when it was first played) or 1949 (when it went into commercial production) - take your pick!'
Clue Nostalgia Edition:


Adrenaline Design have reproduced the 1963 American edition of Clue, in this vintage wooden case setting. Click on the images for a closer look. Thanks to Jaime Martinez for the info and Andrew N. from St. Louis, Missouri for the contents pic.
Luxury Cluedo / Clue: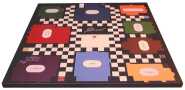 Geoffrey Parker Games, who make games for such US department stores as Neiman Marcus, Bergdorf Goodman, Scully and Scully, Barneys New York and Saks Fifth Avenue (very high end exclusive stores) have just finished designing a luxury version of Cluedo / Clue!! Apparently, they have been making games for 45 years and are very much known as the best in the world!

This version of Cluedo / Clue is now available and can be purchased here (if you have a spare £2,750 / 4,111.86 Euros that is!) Click on the image to view in detail.

They are also making a 3D version, like a large dolls house in a Victorian style!
Clue 1949 First Edition:

Winning Moves Games have released a replica of the first edition of Clue, that was released in 1949. It is available in the US from Toys R Us and K-Bee Toys; and there are a couple of copies on eBay. Winning Moves say that you can ring them (in the US) to find out which stores in your area sell the game. More info can be found on their website here: Winning Moves Games.
---
© Paul Howls, 1998-2005
Cluedo & Waddingtons are © Hasbro International Inc. Distributed in the UK. by Waddingtons Games, Castle Gate, Oulton, Leeds LS26 8HG